Initiated by the Vandaloop collective in October 2018, Gold Rush was the first approach to an ongoing larger project to be completed with Trash Temple in December 2019. The use of golden beer cans as a base material and the initial reference to ancient and medieval alchemy is central to both exhibitions.
Dealing this time with the issues of the culturally and socially diverse community of the neighbourhood of Exarcheia in the centre of Athens, the collective realized a month of weekly golden interactions followed the opening event: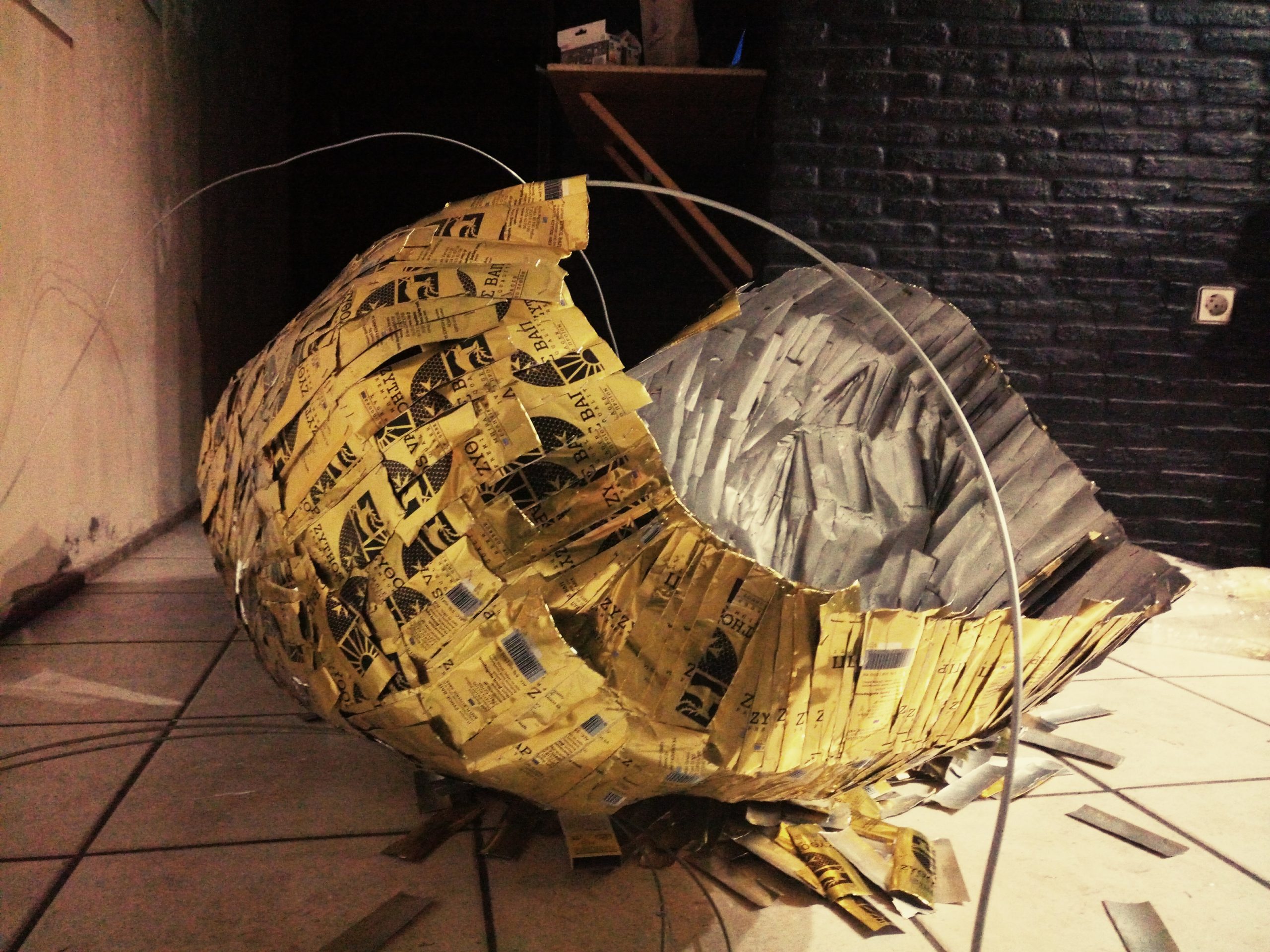 Gold Rush, in addition, accomodated a series of four large-scale photographs – Signs of a golden future – hanged in four directions, referring each to a basic element of hermeticism/alchemy: water, earth, air and fire … The post-apocalyptic scenery in this series contrasts its optimist title and, thus, leaves a sarcastic taste on all ideological promises toward a 'golden future'. Nevertheless, it is based on a circular concept of time and history to be found in the philosophies of Hinduism, Buddhism and Jainism as well as in James Joyce's Finnegans Wake. History, understood within the concept of circular time, constantly degrades from the golden to the silver, bronze and dark metal age that we are currently living in. However, exactly at the darkest hour of all history new opportunities will be born again as to return to the golden age …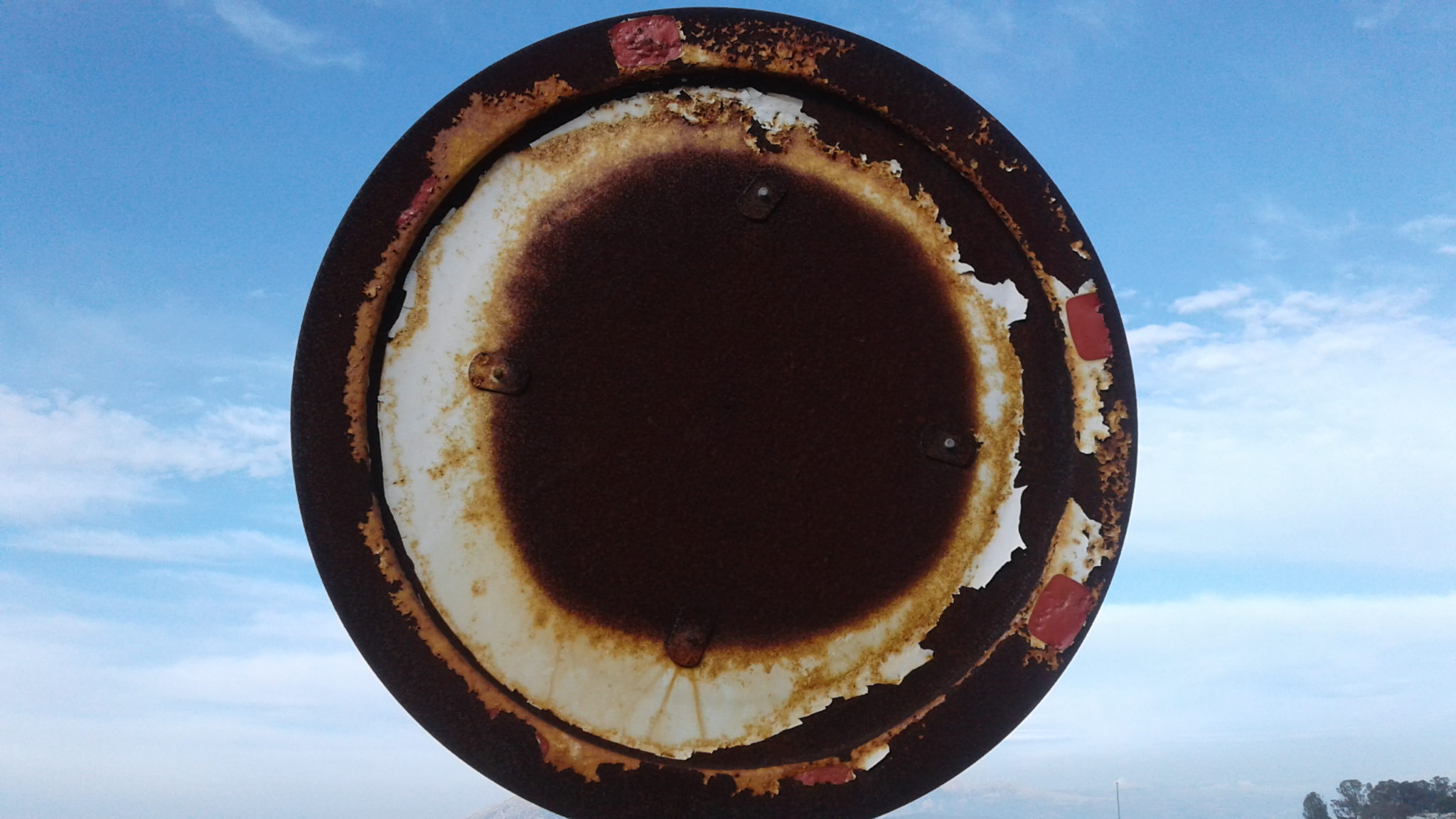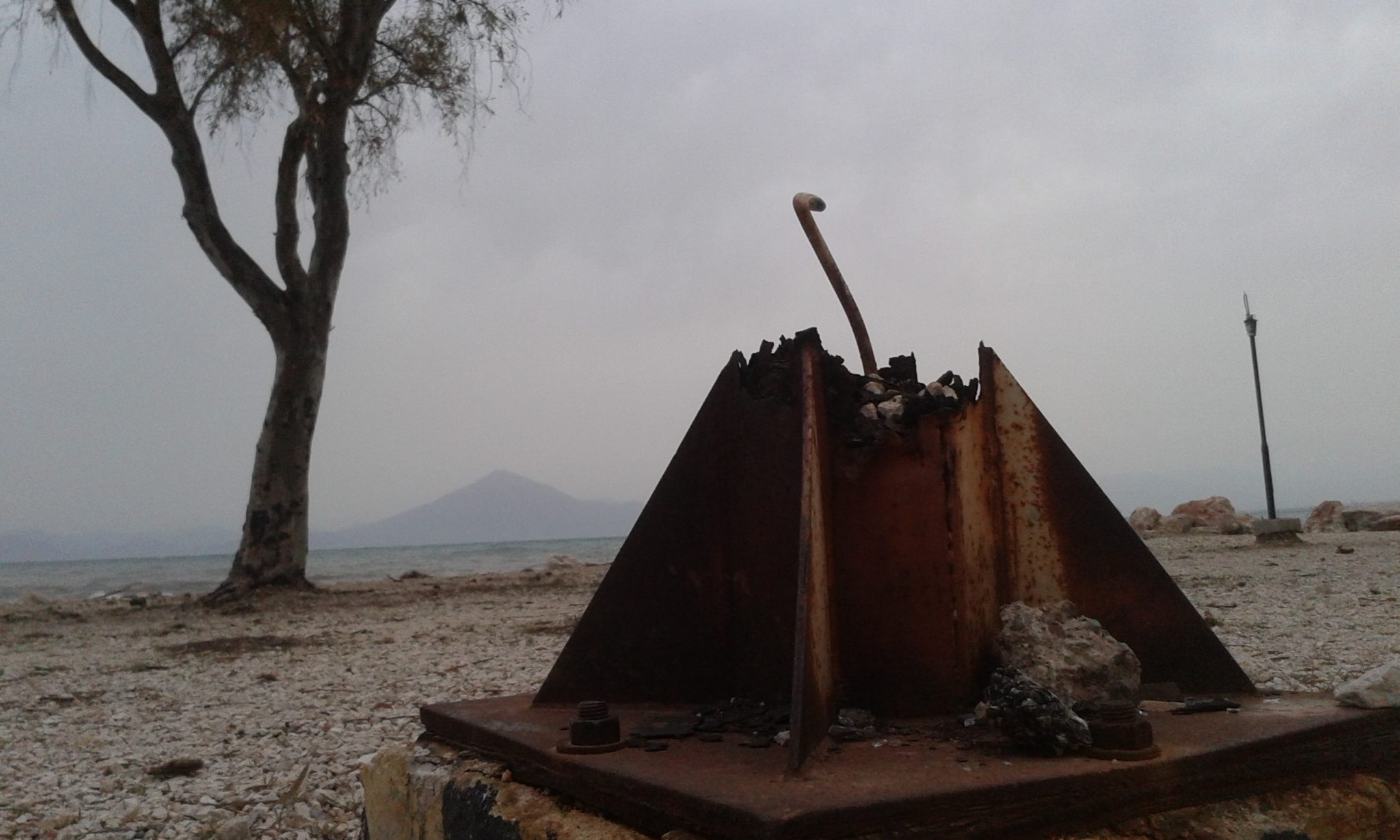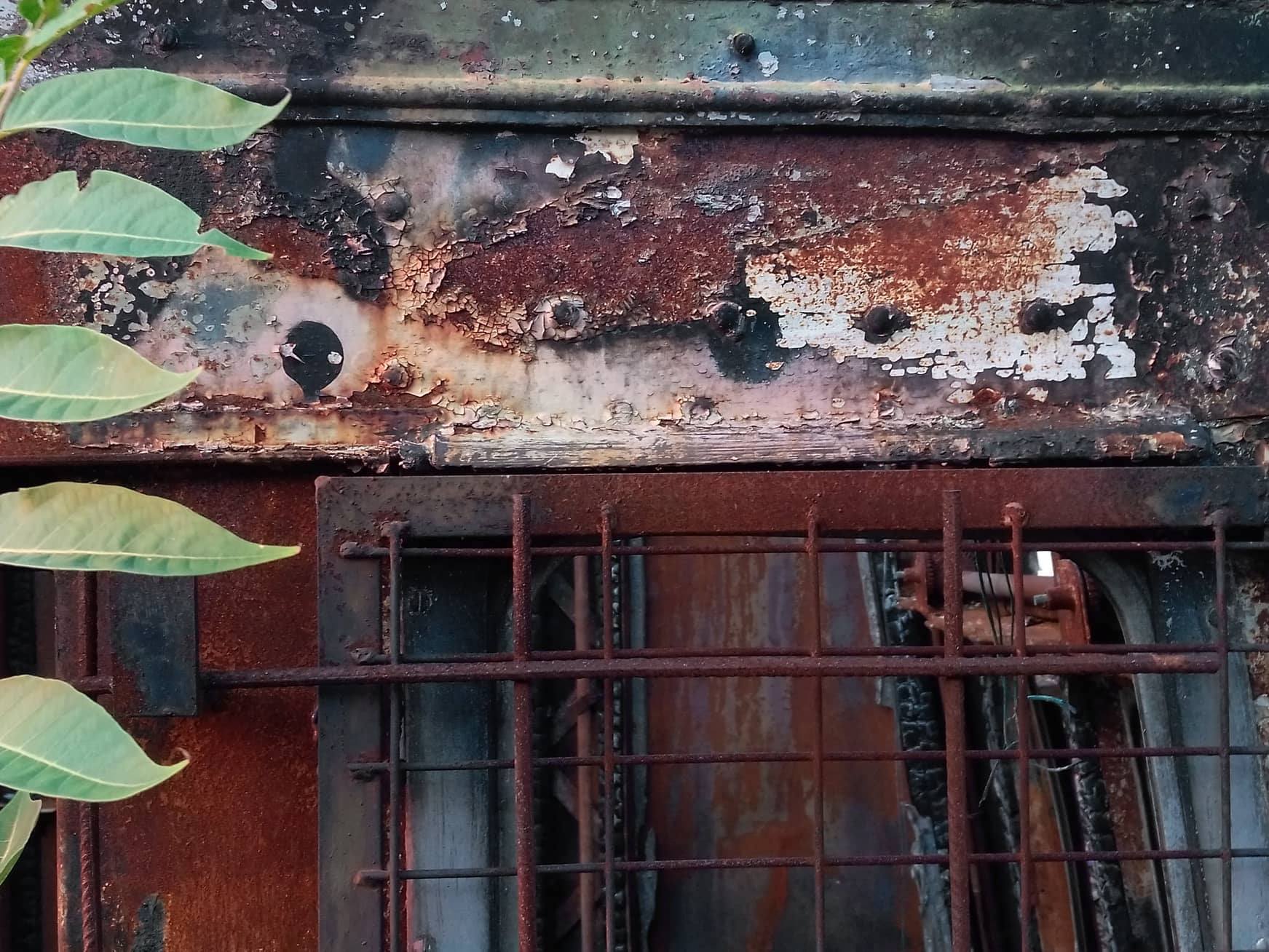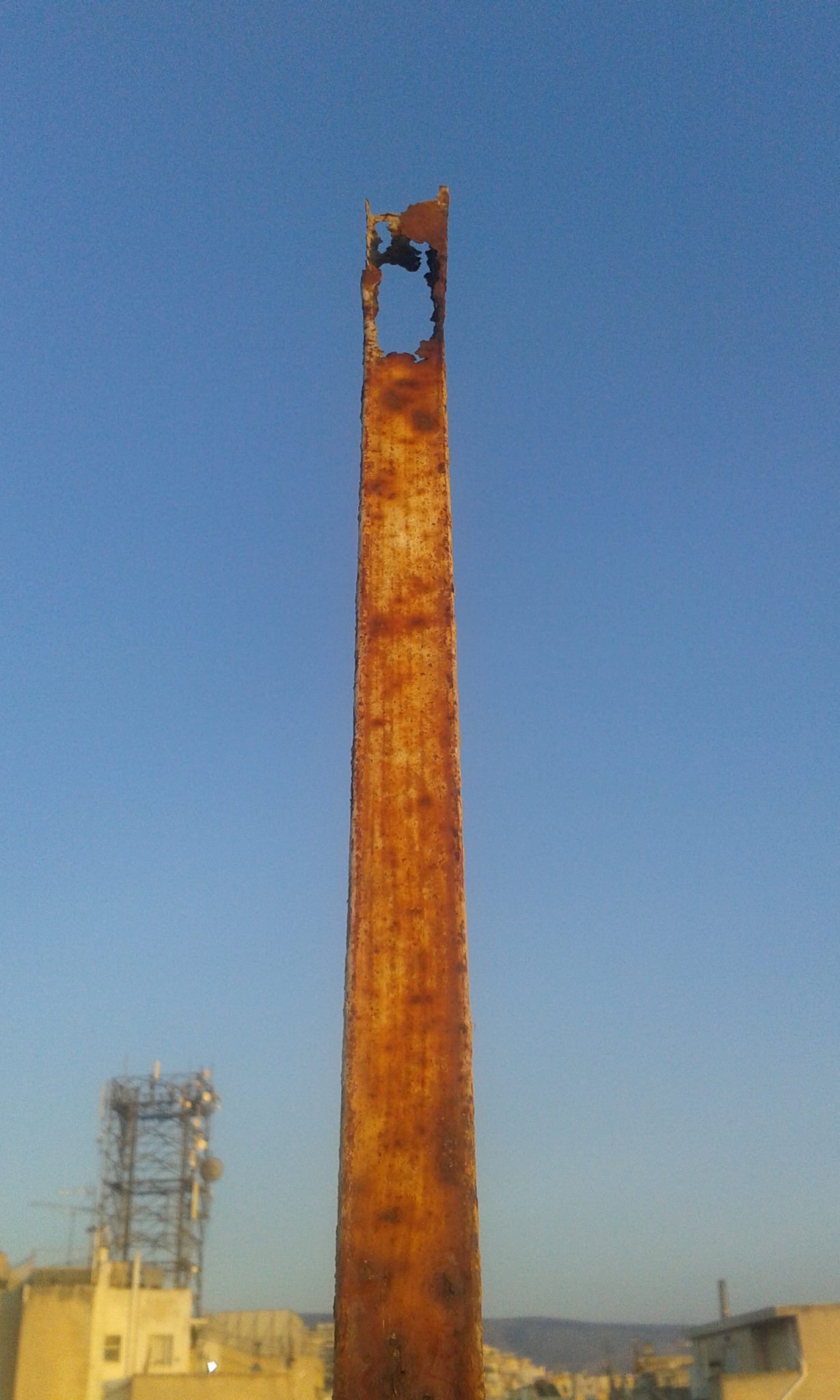 Moreover, Gold Rush featured a text – Sitan ola'itur moor – written in an imaginary language. Inspired by the philosopher Giorgio Agamben's expression that in our time law has no longer a meaning but is still 'in force', it articulates the possibility of a lawless law, or of a language that is devote of all meaning. Put in reverse, the text is open to all meaning and to the flow of our imagination, creating new meaning each time it is read, merely according to the reader's pronunciation and to the sound of the words.
Sitan ola'itur moor,
mas elefsent, mas
ola'itan mana. Shachsit
saban. Min lahan ut
lafsin, min lafsin ut
laha, min onur! Min
onur, aylaha, min onur,
chakara sin … Na tu
fesatli ti kalabisetel bil
ne, ti malachisetel bi
nin, si kasata – nu wota
bis astish? –, si kasata
kuna'irat kes bithalté.
Orbun vagar: no selto
sish erlese mia tanar,
luch kathirulatas,
notelpos, belugan.
Wilamach genese mia
fatush, au siko
filachsint os naga
zaribat, os naga sat
zaribatar, fil olan
ushtan mia ichsotan
yesfal yelushtan,
ichsotan zaribat
sabaar.
Sitan ola'itur moor (2018) by Hannes Schumacher
The four photographs included in Gold Rush are synaesthetically related to this text, since they are all meaningless signs, abstract artworks without any clear signifier to be found in the physical world. Why, however, are they also signs to a 'golden future'? Because the 'golden future' will be a time devoid of meaning, devoid of any laws. To put it differently, the era of ideologies and orthodox religions has exhausted itself; the only 'grand narrative' (Lyotard) still possible today is the post-apocalyptic narrative of lawlessness, the narrative of chaos.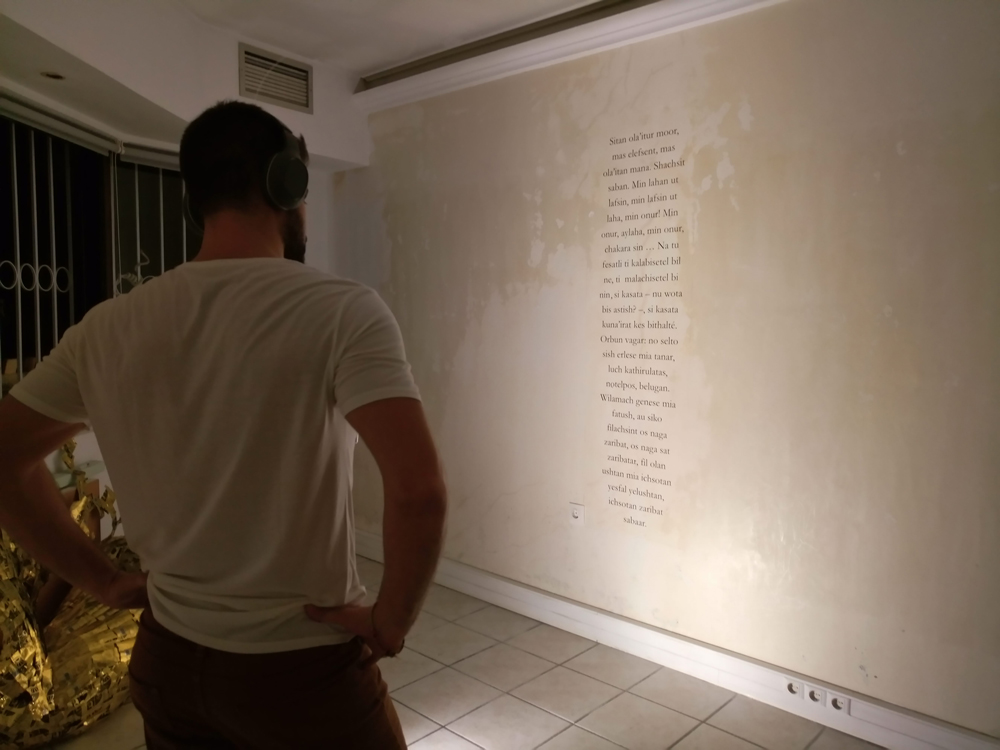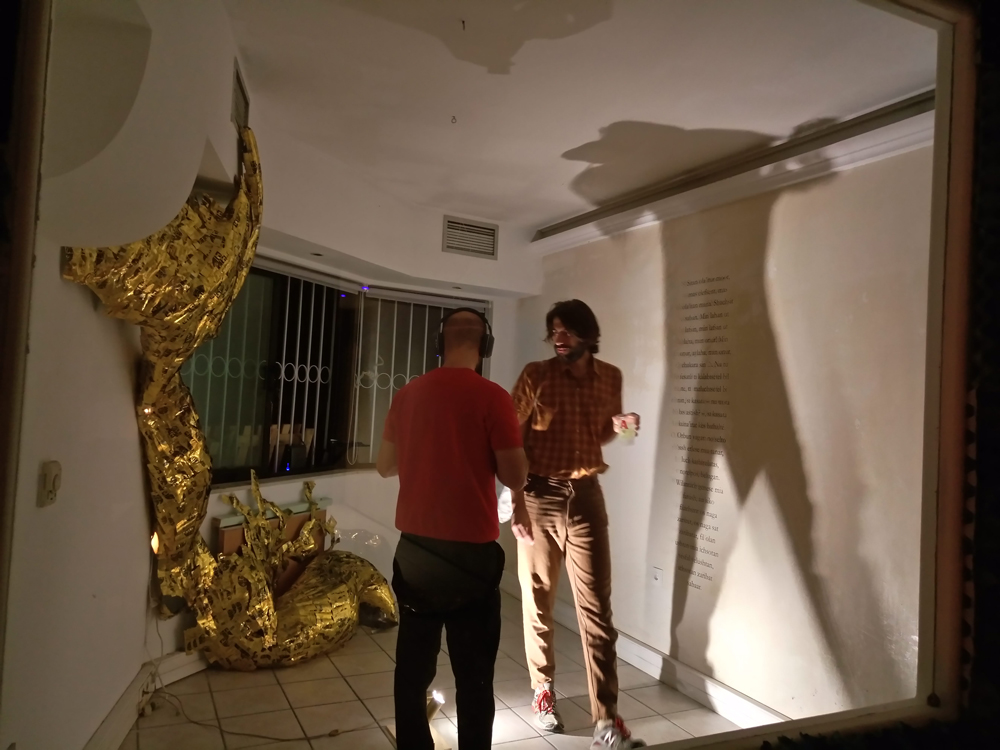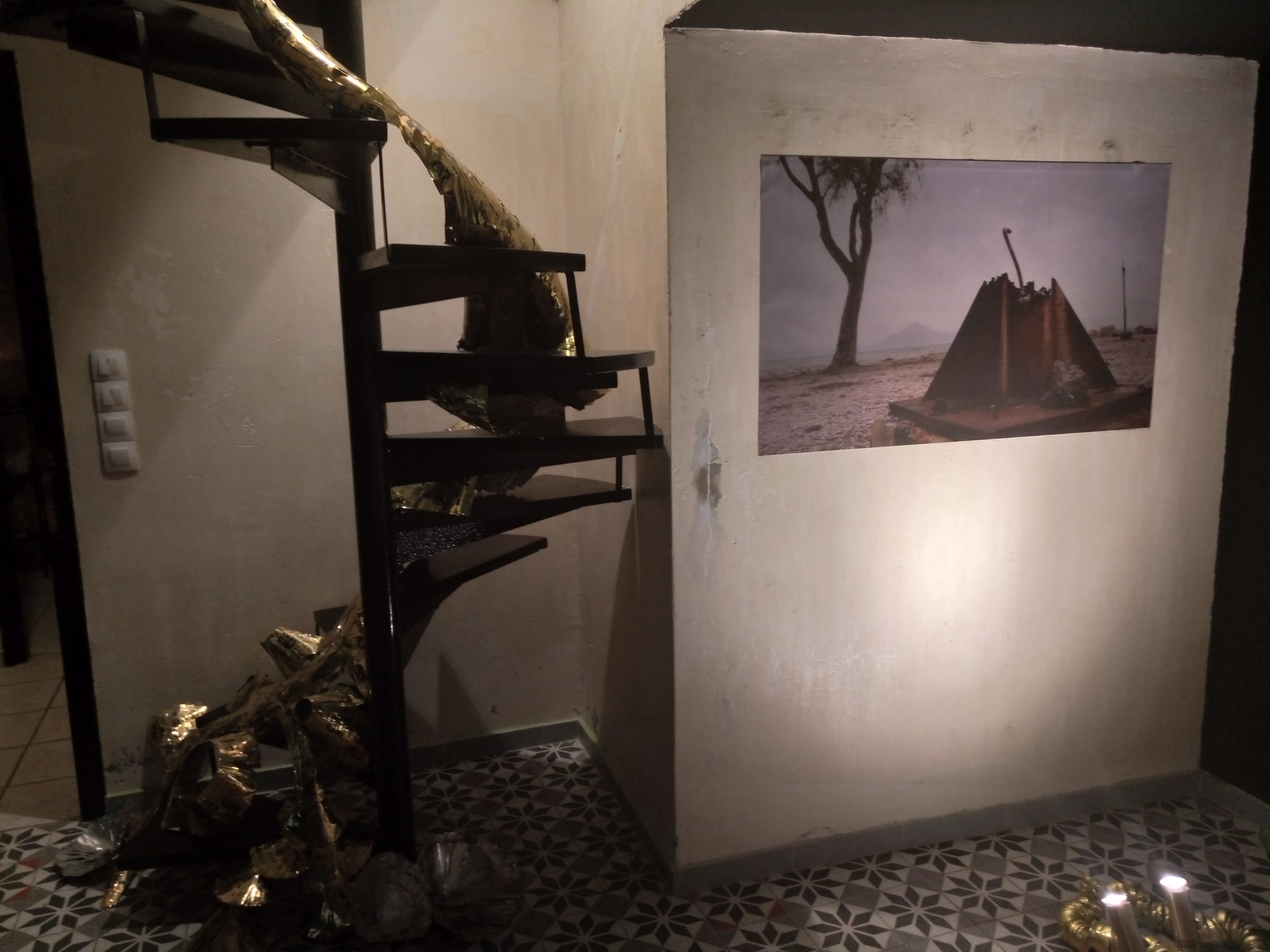 ---
A month of weekly golden interactions followed the opening event: A workshop on voice, sound and golden metamorphoses, a gathering for the screening of the movie Holy Mountain by Alejandro Jodorowsky (focusing on the spiritual dimension of alchemy/gold), sound interventions on invented languages accompanied by a collective performance highlighting parts of the body with black and golden body-painting, took place each once per week after the opening.
---
Collective performance and sound interventions by Agis Tompros, Tzortzina Dertini, Evgenia Giannopoulou, Katerina Rotoli and Hannes Schumacher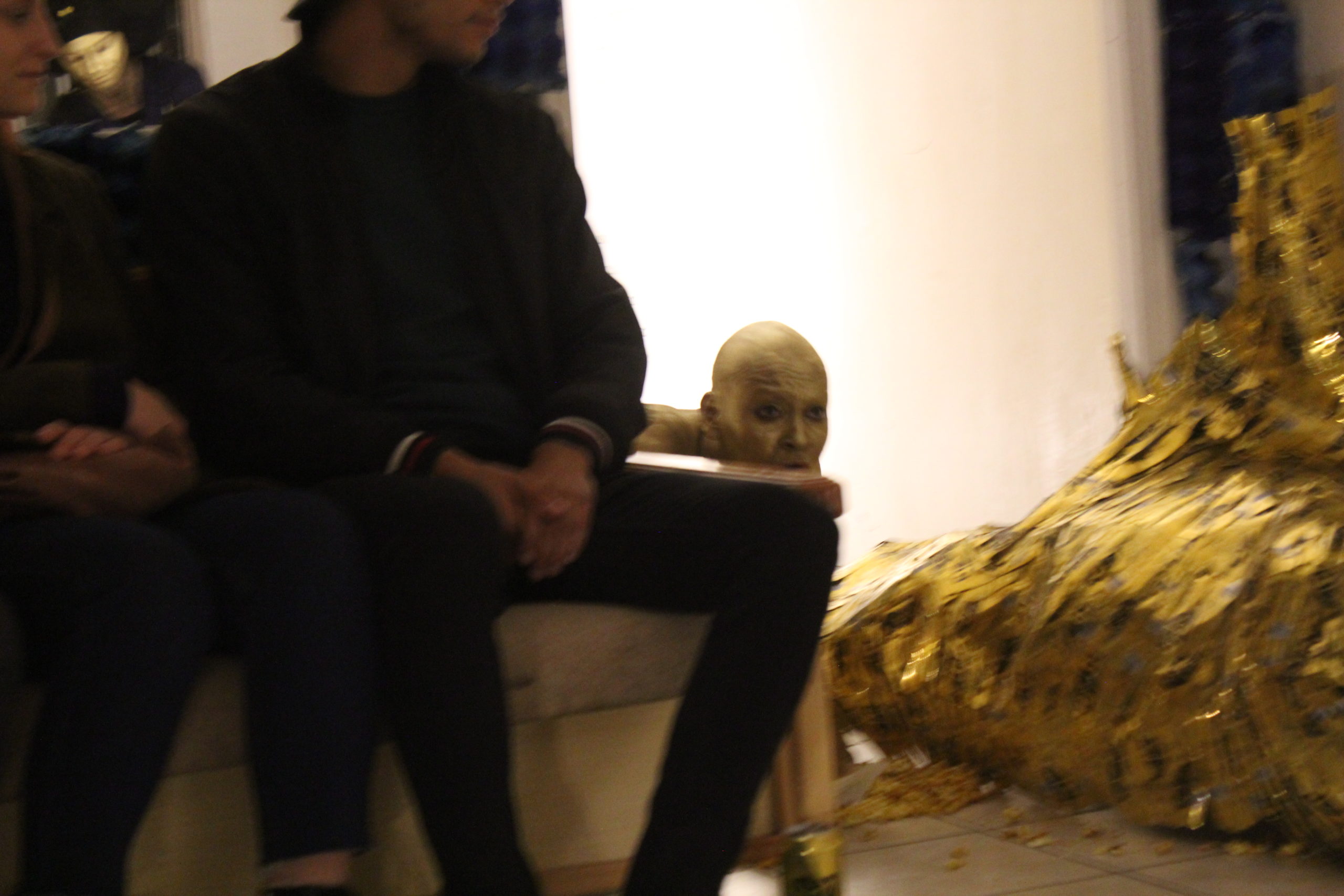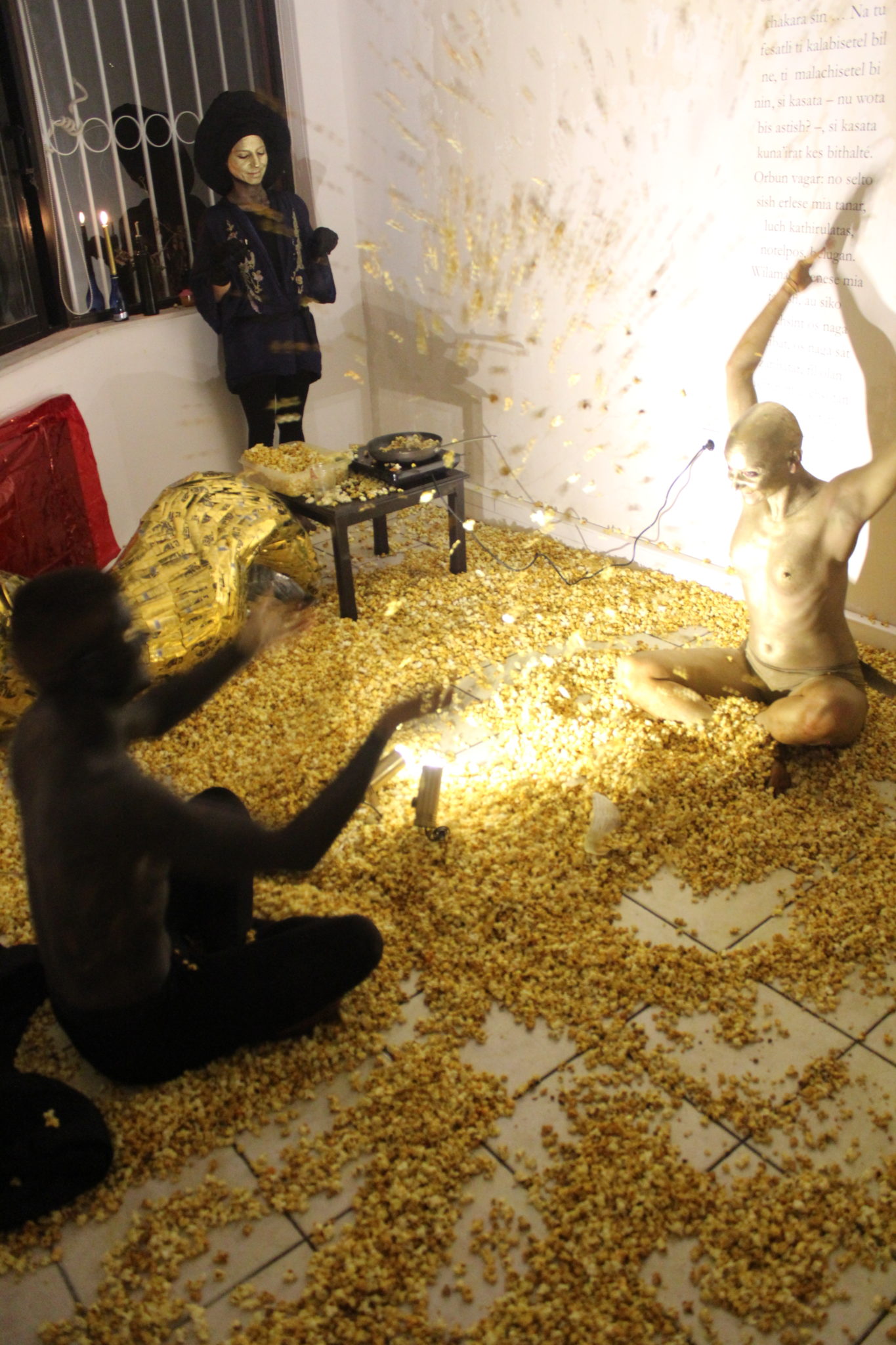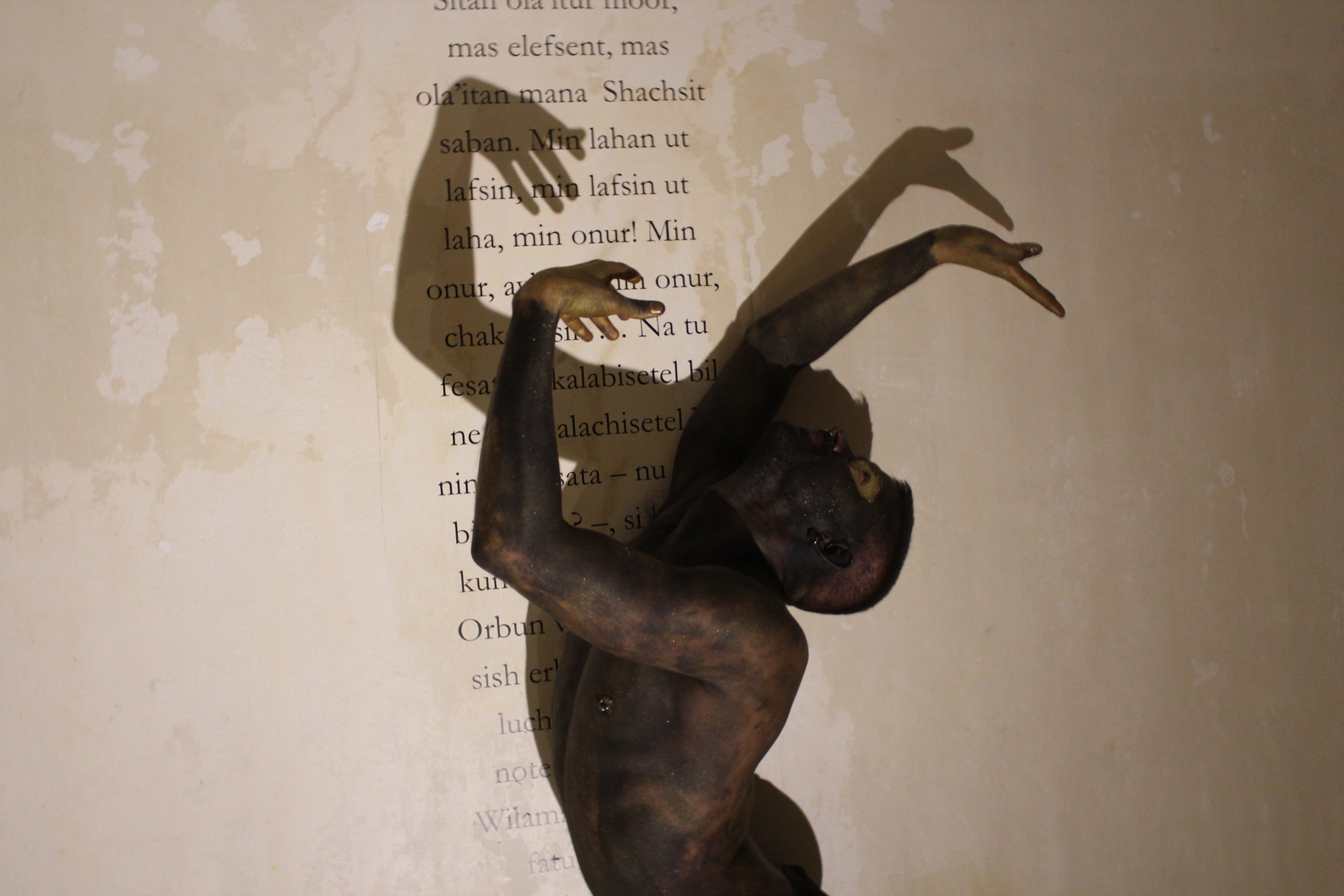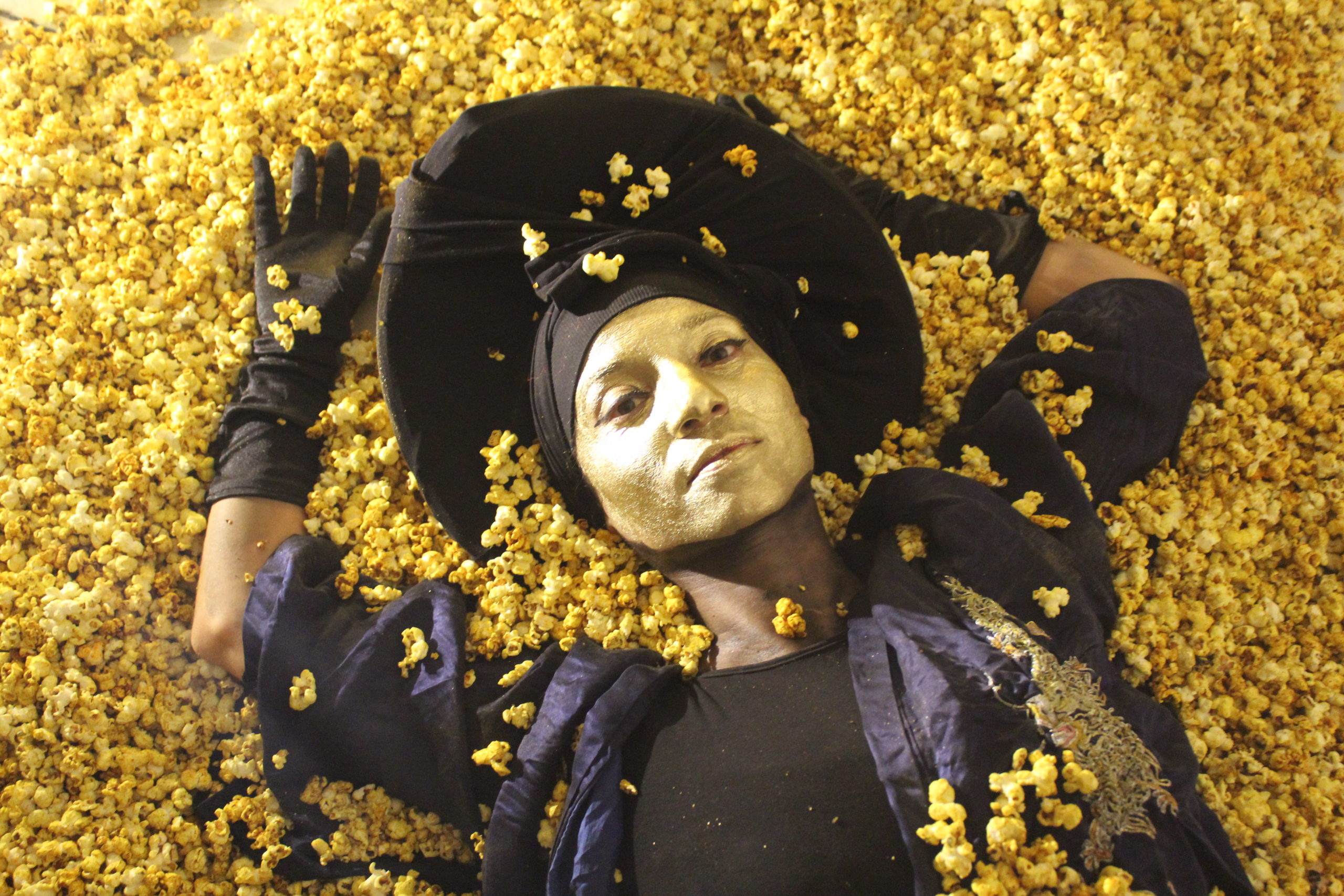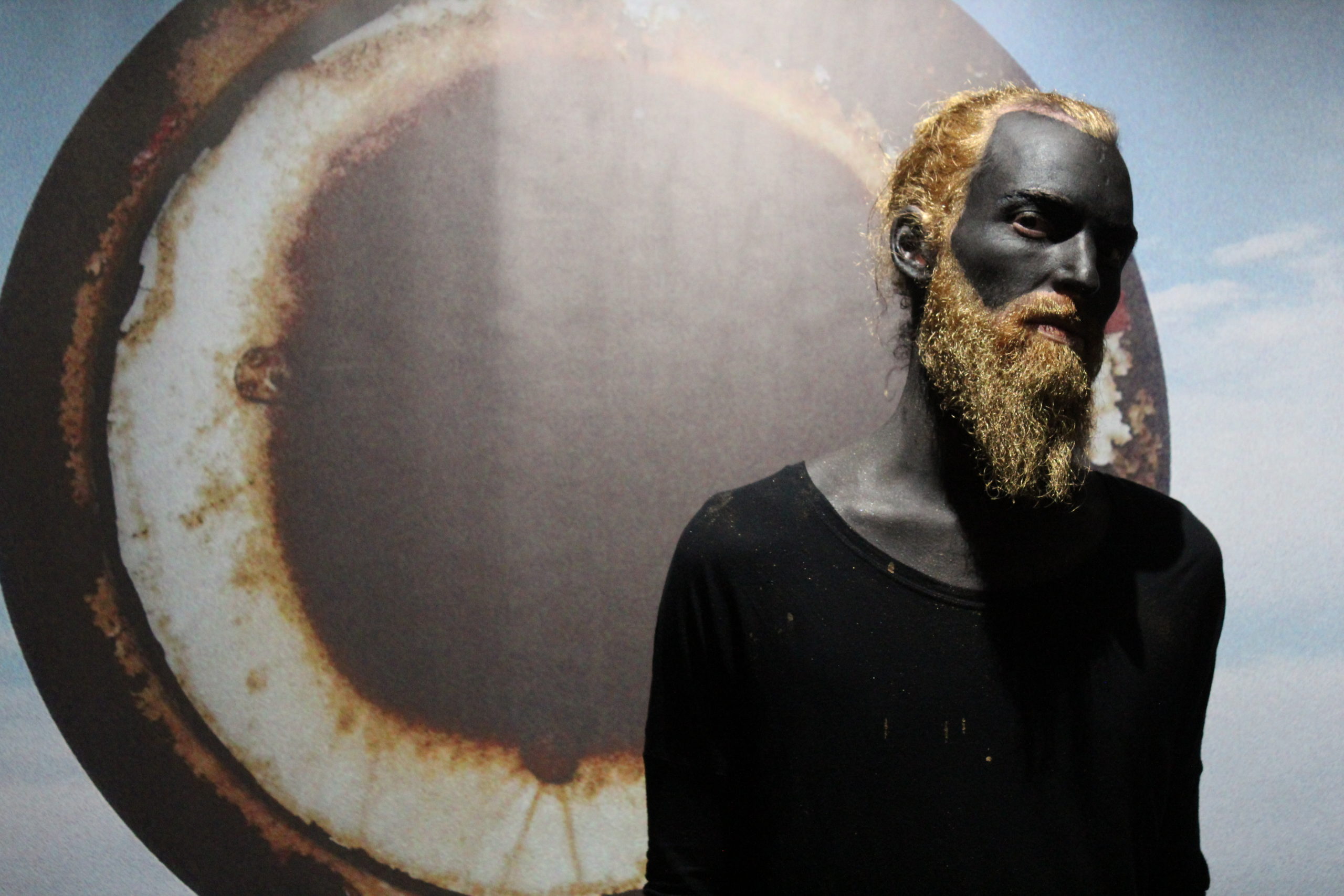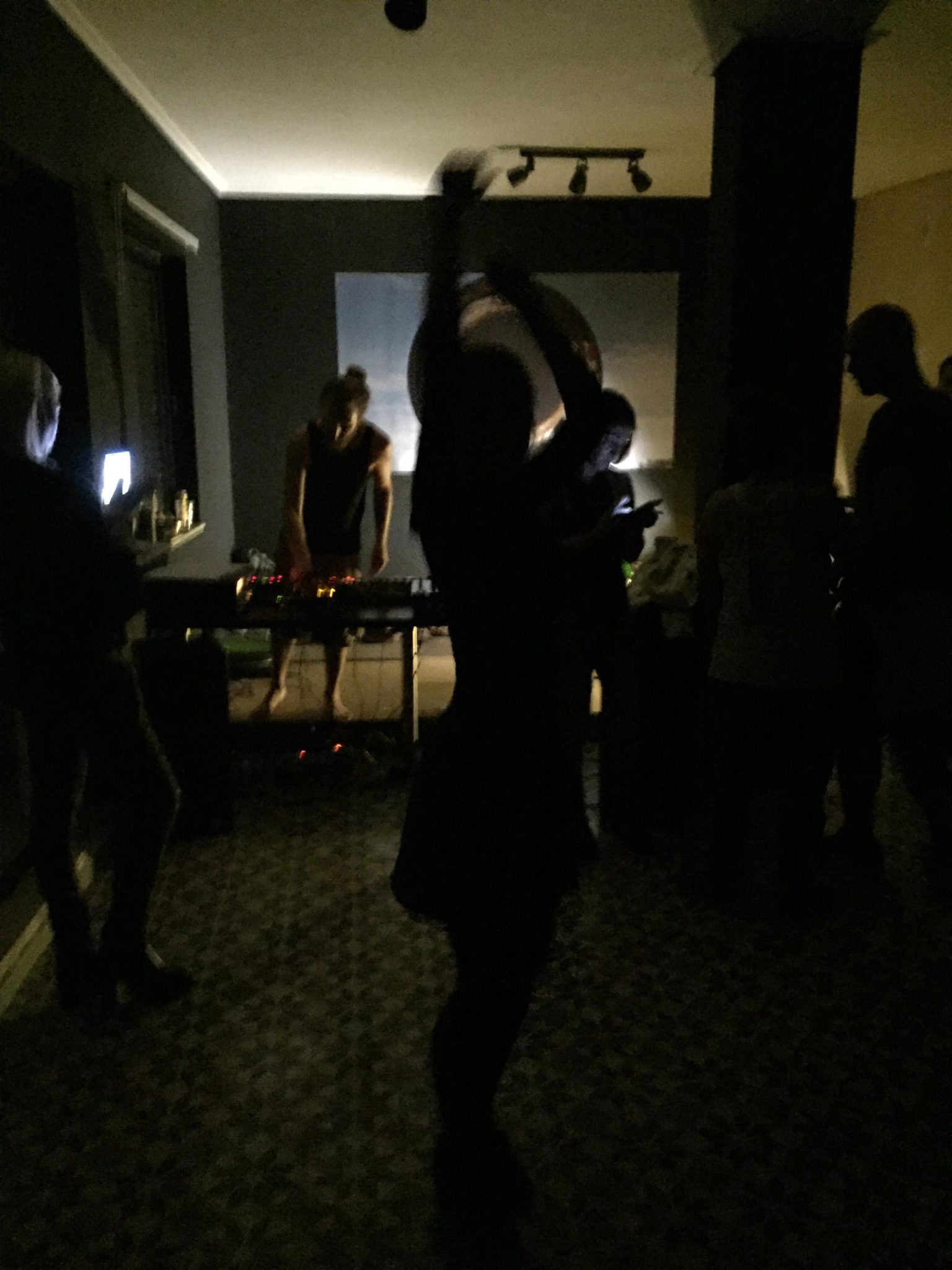 photo credits: Costantis Mparmpou
https://www.instagram.com/costantis/